Medieval History
CFP: Medievalism of Nostalgia
The Medievalism of Nostalgia
An ARC NEER Conference

Call For Papers

Graduate Centre, University of Melbourne
November 27-28, 2009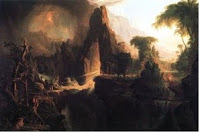 Thomas Cole, "Expulsion from the Garden of Eden" (1828)
Nostalgia, first perceived in the 17th century as an obscure condition of homesickness afflicting soldiers serving abroad, is now recognized as a key symptom of modernity. Medievalism­ - the re-imagining and re-invention of the Middle Ages - ­has provided a desirable home for the longings of nostalgia since the 18th century or earlier. This conference offers an opportunity to investigate the privileged association between the two terms. Keynote speakers at the conference are Professor Linda M. Austin (Oklahoma State University), Dr. Louise D'Arcens (University of Wollongong), Professor Andrew Lynch (University of Western Australia). Cost of registration is $60/$40 concession.
Papers are invited which explore the links between medievalism and nostalgia from any perspective. Possible fields of interest include: theory and history of nostalgia and medievalism; literature; music and performing arts; art and architecture; cinema, television and digital media; popular culture; detective fiction; tourism and heritage sites; historical recreation societies; nationalism and medievalism; pedagogy; museums and galleries.
Please submit your title and 250-word abstract for papers of twenty minutes in length to the convenor, Helen Dell, School of Culture and Communication, University of Melbourne (helendel AT vicnet.net.au) by September 11, 2009. Please include affiliation and contact details with your abstract. Further details will be available at the conference website and on the Network for Early European Research events web site.
A postgraduate/early career researcher masterclass will be held immediately after the conference, on Sunday November 29. This day-long event will focus specifically on the theorising of nostalgia, and will be geared toward assisting postgraduates and early career researchers in developing a rigorous and confident engagement with nostalgia and associated concepts. While the masterclass will have a medievalist emphasis, it will not be limited to medievalism, so postgraduates and early career researchers in a range of areas are welcome to apply. This event will be convened by Louise D?Arcens and Andrew Lynch as part of their current Australian Research Council-funded project on Medievalism in Australian Cultural Memory. The masterclass will also involve input from other academic guests working in the areas of nostalgia and cultural memory. Further details to come when they are confirmed. Interested postgraduates and early career researchers should contact either Andrew Lynch (alynch AT arts.uwa.edu.au) or Louise D'Arcens (louised AT uow.edu.au) by October 1. Proposals should include name, academic affiliation, and 200 words describing your current research project and how you see it intersecting with issues of nostalgia and/or cultural memory.
-----
-
Evans Interviews Candace Robb; Brown Reviews Intl. Medievalism And Popular Culture (d'arcens/lynch)
Medievally Speaking announces two new publications: Michael Evans: "'My fiction is the natural outgrowth of my fascination with the times:' an Interview with Candace Robb." Molly Brown reviews: Louise D? Arcens and Andrew Lynch (ads), International...
-
Richard Utz Reviews Medievalisms. Making The Past In The Present
Richard Utz recently reviewed Tison Pugh and Angela Jane Weisl's Medievalisms: Making the Past in the Present (New York: Routledge, 2013), for The Medieval Review. This coauthored volume may very well be the first book on medievalism(s)...
-
Australian Early Medieval Association Sixth Annual Conference
AUSTRALIAN EARLY MEDIEVAL ASSOCIATION SIXTH ANNUAL CONFERENCE GATHERING THE THREADS - WEAVING THE EARLY MEDIEVAL WORLD REGISTRATION OPEN; CALL FOR PAPERS CLOSING 30 JUNE http://home.vicnet.net.au/~medieval/ AEMA's sixth annual conference will be held...
-
Australian Early Medieval Association Fifth Annual Conference
AUSTRALIAN EARLY MEDIEVAL ASSOCIATION FIFTH ANNUAL CONFERENCE WELCOMING THE STRANGER IN LATE ANTIQUITY AND THE EARLY MIDDLE AGES REGISTRATION OPEN; CALL FOR PAPERS CLOSING 30 JUNE http://home.vicnet.net.au/~medieval/ AEMA's fifth annual conference...
-
Vikings: Melbourne Symposium
*VIKINGS AND THEIR ENEMIES* http://home.vicnet.net.au/~medieval/vikings/ *A symposium at the University of Melbourne, 24 November 2007* *Supported by the ARC Network for Early European Research* Most peoples of early Europe had contact with vikings...
Medieval History