Medieval History
Percy Dearmer and the the Warham Guild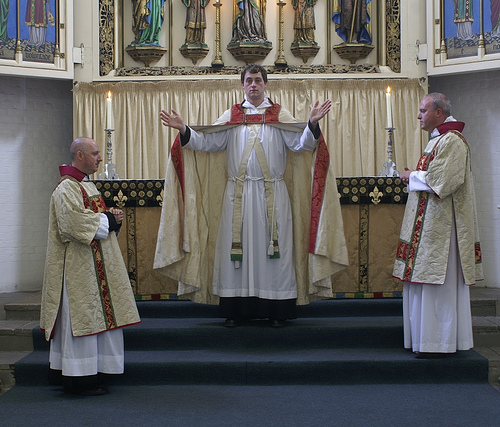 St Mary's Primrose Hill, Hampstead
, originally uploaded by
Vitrearum
.
A lot of people know that one of my great heroes is the priest, poet, liturgist and artist Percy Dearmer. To my mind Dearmer was one of the greatest figures in the early twentieth century church. For a short time at least he succeeded to educate the Church of England that the externals of worship were not just a subordinate matter, but had primary value. In his theology they had primary value in that they were good and reflected and manifested the creative force of God the Father. One of Dearmer's greatest achievements was the formation of the Warham Guild. The Guild was established in 1912 to produce vestments and church ornaments according to the aesthetic principles of Dearmer's magnum opus the Parson's Handbook. The Guild replaced an earlier enterprise, the Society of St Dunstan, which Dearmer had founded in 1901 in his new parish of St Mary's Primrose Hill.

Dearmer was a Christian Socialist who abhorred what he termed the tyranny of the sweat shop. Consequently the Warham Guild, like the Society of St Dunstan that preceded it, was run on Arts and Crafts principles. Nothing was mass produced, everything was 'fair trade' manufactured in fair conditions.

Stylistically the aesthetic of the early Warham Guild work was medieval. As time went on the Gothic influence became more derivative. In terms of vestments, the Guild used good quality materials that in general terms have stood aesthetic as well as physical test of time. Below are some examples: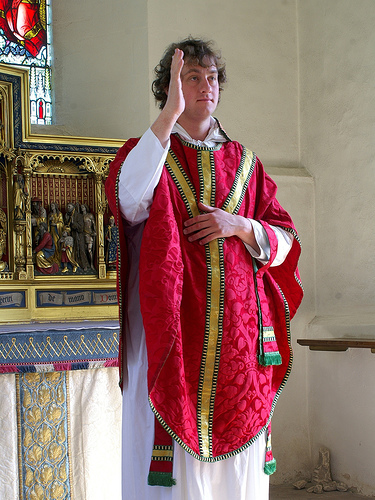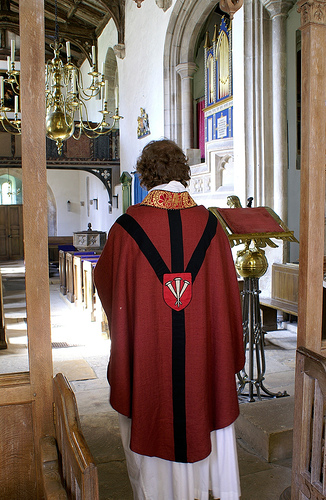 Warham Guild frontal and vestments: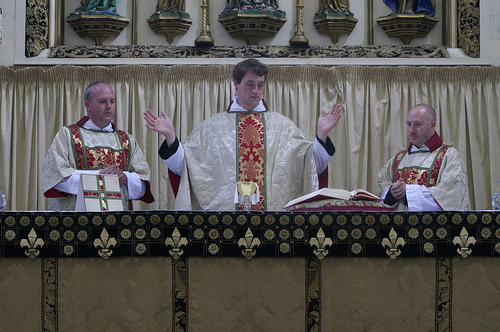 -
A Friday Indulgence - Medieval Stained Glass Heads From Norfolk
So much of English medieval stained glass survives as isolated fragments.. At Warham in North Norfolk, is an extraordinary collection of such fragments, mostly heads. They are the heads of saints, angels, kings, queens, bishops and clergy...
-
Grantham Lent Array
At the glorious fourteenth century church of St Wulfram in Grantham, Lincolnshire is this dramatic example of Lenten array photographed here by SarumSleuth. The array entirely coveres George Gilbert Scott's magnificent towering reredos....
-
The Lenten Rood Veil
Percy Dearmer, the author of the Parson's Handbook, was vicar of St Mary's Primrose Hill in Hampstead, so it is no surprise that this glorious church has a full set of Lenten array. The church also follows the pre-Reformation practice of veiling...
-
North Cerney, Gloucestershire - Part 1
If I was a country parson living in, dare I say it, the good-old-days of the Church of England, when there was one priest per parish. The one parish I would love to serve would be North Cerney in the Cotswolds near Cirencester. In my mind the church in...
-
Advent Blue Ii
AdventBlue 012, originally uploaded by sarumsleuth. I couldn't resist posting some of SarumSleuth's photos of the glorious Advent blue high mass set at Primrose Hill in London. St Mary's, Primrose Hill is Percy Dearmer's church and the...
Medieval History