Medieval History
Pre-Reformation Devotional Images of Our Lady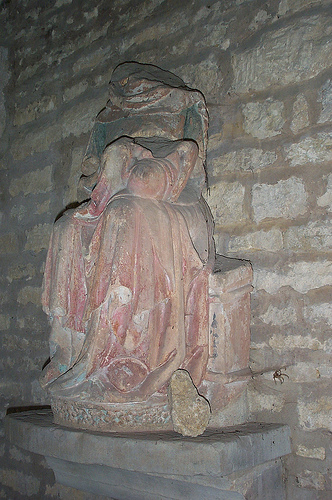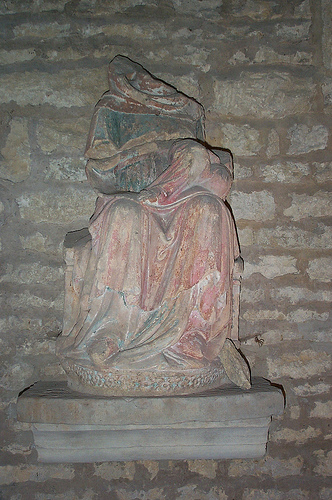 This glorious fragment of sculpture was discovered in 1879 walled up within Anwick church in Lincolnshire. It is a remarkable survival. It is a seated figure of the Virgin and Child, dating from the early years of the fourteenth century. Sadly it has faired badly at the hands of iconoclasts, who have removed the head and much of the body of the Christ Child. Given its treatment it was presumably used as a devotional image. It is remarkable in that it has retained a large percentage of its original polychromy, giving a wonderful glimpse of the vibrant colouring that was typical of devotional images in this period. Lawrence OP has a photograph of a modern image of Our Lady, based on a fifteenth century precedent, which gives some sense of the form and vibrancy lost in the Anwick example.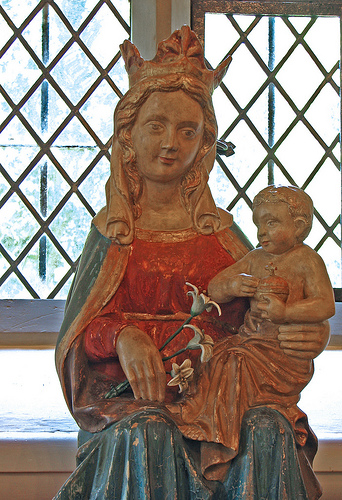 Down the road from Anwick, at Bigby (well when I say down the road I mean the same county) is another fragment of a similar image of the Virgin and Child. This probably slightly earlier dating from the turn of the thirteenth/fourteenth century.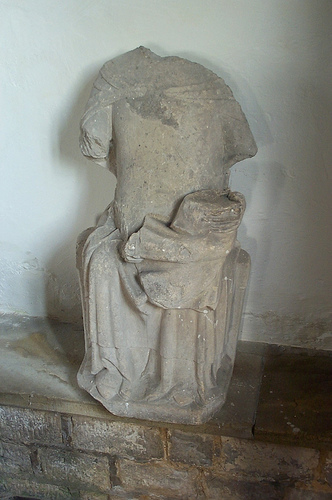 As you see it has not faired as well as the Anwick fragment, but is nonetheless an important survival. The figure of the Christ Child seems to be kicking his legs about and reminds me very much of this lively image in glass at East Hagbourne, Berkshire, which is of similar vintage: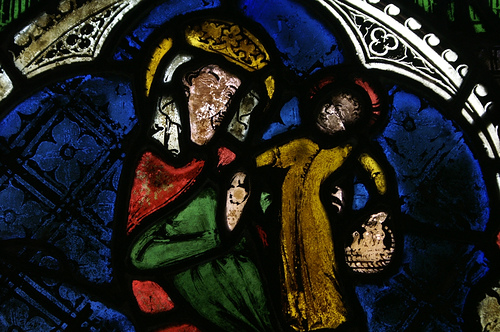 -
A Remarkable Survival
South Cerney Christ, originally uploaded by Aidan McRae Thomson.This beautiful Romanesque polychromed head and foot, is all that remains of a rood dating from c.1130. The fragments were found in 1913 walled up behind the respond of a nave arcade at South...
-
Some Thoughts On Our Lady Of London
One of my favourite images of Our Lady is the poster 'Our Lady of London' which was designed in 1935 by Martin Travers. I took this photo of it from a surviving copy hanging in a Nottinghamshire church. Our Lady has twelve stars around her...
-
Virgin Mother & Child Jesus
Virgin Mother & Child Jesus, originally uploaded by Lawrence OP.This is such a lovely image of Our Lady and the Child Jesus, that I couldn't resist posting it here. Lawrence OP has captured superbly the central image of the lady chapel reredos...
-
Shadows Of Former Things
My apologies for neglecting the blog, it has been rather a hectic ten days. My day off last week, which is the day I usually write for the blog was taken up with a visit to Nottinghamshire with Gordon Plumb. We went to a couple of very fine churches....
-
Marginalia - Images On The Edge Part I
Brocklesby, Lincolnshire, originally uploaded by Vitrearum.Yesterday, with the Revd Gordon Plumb as my guide, I went to the glorious estate church at Brocklesby in Lincolnshire. Brocklesby is a fascinating place. The estate is the property of the Earl...
Medieval History