Medieval History
Rahman reviews: Knight, Reading Robin Hood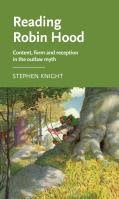 Sabina Rahman recently reviewed: Stephen Knight, Reading Robin Hood, Manchester: Manchester University Press, 2015, for Medievally Speaking:
Reading Robin Hood stands as Stephen Knight?s third book devoted to the outlaw hero, preceded by Robin Hood: A Complete Study of the English Outlaw (1994) andRobin Hood: a Mythic Biography (2003), and demonstrates some deviation from these earlier works by containing a stronger theoretical focus. While A Complete Study was a wonderfully detailed overview of the myth and A Mythic Biographytraced the manner in which the myth changed and evolved and how it operated politically, this book situates itself much more in the Greenwood gloaming as it attempts to address points of unclarity in the outlaw tradition and associated scholarship. In his usual meticulous style, Knight draws together disparate threads of scholarship within this rhizomatic field of study, his distinct voice containing not only the attention to detail that one has come to expect from him but also a clear and unabashed enthusiasm for the subject matter. Though the book weaves in and out of eras and discussions, because the nature of the texts and discussions cannot be neatly constrained by either of those features, it is split into eight discrete chapters. READ FULL REVIEW HERE
-
Selling Robin Hood: City's Search For Sherwood Spectacle
He's got a bow, wears Lincoln green and he's been the subject of Hollywood blockbusters starring Errol Flynn, Kevin Costner and Russell Crowe. There is no denying Robin Hood is a fully fledged global icon, but he has proved to be a headache for...
-
Writer Wants Johnny Depp To Play ?his? Robin Hood
Best selling historical novelist Angus Donald from Tunbridge Wells is now on the fourth volume of his series concerning the exploits of Robin Hood. Warlord is set in 1194 and sees Richard the Lionheart in Normandy engaged in a bloody war to drive...
-
Was Braveheart The True Hero Of Sherwood Forest?
Scottish hero Sir William Wallace may have been the inspiration behind the legend of Robin Hood, a ­best-selling crime writer has claimed. Outlaw Robin Hood is a towering figure in English folklore but historical ­author Jack Whyte has claimed the ­origins...
-
Novelist Reinvents Robin Hood As Medieval Gangster
Robin Hood was a medieval Don Corleone rather than the altruistic renegade aristocrat known to millions around the world, says British novelist Angus Donald. Donald is working on a quintet of Robin Hood novels, the first of which "Outlaw" was published...
-
Sherwood Shenanigans: Wolf's Head By Steven A. Mckay
Wolf's Head by Steven A. McKayI was in the mood for this book when I came to it. Perhaps that is why I caved in and did a very rare thing. A rare thing for me that is. I accepted this self published book (and its follow on) in exchange for a review...
Medieval History