Medieval History
Samurai Sauce: THE 47 RONIN STORY by John Allyn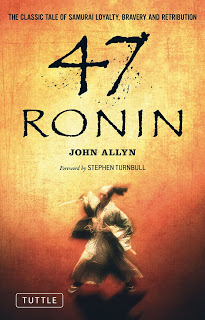 47 Ronin by John Allyn
What a way to NOT start a New Year. It is the first half of the first month of 2014 and despite my hopes that this would be a big year for me and my reads, it has kicked off with a real let down.
I have seen 47 Ronin pop up in my friends' reading lists for a couple of years. I always thought it was a Young Adult book and avoided it as I only read adult fiction.
Then recently, I was looking for a book with an Asian Medieval (or near enough to it) flavour to suggest as a monthly read in my book group. I researched 47 Ronin and could not actually find anything anywhere that implied it was a young adult book. I am not sure now why I always thought that it was. I have my suspicions that perhaps it was via word of mouth. Someone must have told me that it was. It wouldn't surprise me if that were the case, because if there is any book that suits the title young adult more, it is this book.
It isn't that it is a story about children, don't assume that, it is more about the way it is written. It is simple, lacking in depth. In fact it did not surprise me to learn that the author was an editor in the television and motion picture industries and then a pictorial censor in the army later on. There is something about the way this story is written that reflects a mind that is used to cutting the fat and censoring. Only over editing can explain why this book suffered so from a complete literary devolution.
The characters were strangers to me. I did not know any of them in the entire book. Could barely tell them apart because the author attached no uniqueness to them.
The setting and environment, where depth of descriptions and cultural laminations should have been laid one atop the other to form a contextual feel (an important facet of historical fiction), were completely missing.
The best way for me to describe the lack of layers to this story is to say that I do not believe the author knew enough about the Japanese mind to write this book. He knows enough about Japan and its languages due to his career specialities, to think about writing a book about the Japanese, but I still think he has had some trouble working out who the Japanese male is. Or at least, who the Japanese warrior is.
The writing itself was not so bad. No glaring offenses there as far as technical skill goes. It was just basic and uncomplicated writing.
I cannot say if there are better historical fiction books out there which will offer a better viewing platform to the culture of the Japanese Samurai, as I have not read many on the subject, but I think you should probably try 47 Ronin. It may have more appeal to others than it did to me. I am fussy when it comes to writing and adult fiction. I expect a certain standard of characterisation and scene development. Not everyone has these same standards.
Apologies that I have not gone into what the book is about or who the characters were. To be brutally honest, I have no idea what the book was about and who the characters were. The whole thing was a mystery to me. I couldn't get into it or appreciate what was going on.
I did not know who was who or which way was up and that reflects in my rating for this book. 2 stars out of 5.
- MM
-
Emir Of The Slitted Eyes: Lion Of Cairo By Scott Oden
Lion of Cairo by Scott OdenNow, this is one of those books where I really wish Goodreads had half stars. For me The Lion of Cairo wasn't quite a 3 star, and yet I am not comfortable with making it a 4 star. Choosing from the two, in the end I decided...
-
Breaking Up Is Hard To Do: The Gates Of Rome By Conn Iggulden
Gates of Rome by Conn IgguldenIt has been a bloody long time since I last had a review to do that felt this easy to write. This book was so cut and dry for me. It falls into a class of read that I never fail to find the words to elaborate on. Incompatibility....
-
The Bruce Take Two: Renegade By Robyn Young
Renegade by Robyn YoungRenegade (book two in the Insurrection Trilogy) was another solid offering from bestselling historical fiction author Robyn Young. It detailed many of the more interesting events that took place during the lifetime of...
-
Bordering On Personal Taste: Strategos: Born In The Borderlands By Gordon Doherty
Strategos: Born in the BorderlandsThe norm for reviews is to speak about the book, but I am going to break from that norm and open this review with a brief word about the author. I promise it will all tie together as integral to my evaluation of the...
-
First There Came Little Attila
Attila by William NapierThe first thing you should know if you are thinking about reading this book, or indeed purchasing it, is that it is not adult Attila. This is William Napier's interpretation of Attila's childhood. This book is about little...
Medieval History