Medieval History
The Pastons: Revealing the amazing tale of one of Norwich?s most famous families
And now, Dragon Hall on King Street, Norwich, will celebrate their legacy of medieval life left behind in a series of letters.
The affluent Paston family of the 15th and 16th centuries, who elevated from landholding peasantry to influential, English gentry, left behind a wealth of private and business correspondences that still survive today and provide a fascinating insight into medieval life and the often turbulent political landscape of the 15th and 16th centuries.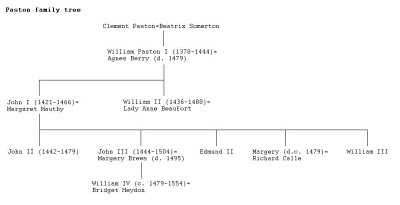 The family moved through the ranks of post-plague English society as a result of the increase in trade and an unstable King troubled by turbulent nobles. Clement Paston is the earliest known, a peasant who owned 40 hectares of land in the village of Paston, 19 miles North East of Norwich, and made sure his son William ? born in 1378 ? received a good education. William became a sought after expert in law, and married a nobleman?s daughter.
Click here to read this article from the Norwich Evening News
-
The Medieval Jewish Poet Who Preceded Chaucer
Rare poems documenting the persecution of Norwich's medieval Jewish community, in the period preceding the expulsion from England in 1290, are being given a new lease of life thanks to the work of a dedicated group of residents. The East Anglia town...
-
Medieval Friary In Norwich Becomes Home For Photography Students
Norwich University College of the Arts has officially unveiled its newest student resource ? the East Garth Photography building, which will serve its BA (Hons) Photography degree course with a state-of-the-art digital darkroom and extensive studio facilities...
-
Well Discovered In Norwich Could Date Back To The Middle Ages
A 25-metre well has been found next to a Norwich pub, and city historians believe it could be an important find. A plumber discovered the well by the outside wall at the Trowel and Hammer in St Stephen?s Road, which has been undergoing a makeover. The...
-
New Bid To Save Medieval Church Paintings Across Norfolk And Suffolk
Conservationists are launching a new bid to safeguard medieval paintings at hundreds of East Anglian churches. They fear rood screens painted in the 14th - 16th Century are under threat from damp and woodworm. The Bishops of Norwich and St Edmundsbury...
-
Living Churches Exhibition At Norwich Cathedral
From 14-25 March, David White will be holding an exhibition in The Hostry of Norwich Cathedral illustrating the life today of those medieval churches still used for worship. Many of the photographs were taken during normal services, and the exhibition...
Medieval History