Medieval History
Update: Staffordshire Hoard Saved for the Nation
Dr Rory Naismith writes:
On 23 March the National Heritage Memorial Fund pledged the final £1.285 million needed to reach the purchase price of £3.3 million set by a Treasure Valuation Committee in November 2009 for the Staffordshire hoard of 1,600 early Anglo-Saxon gold and silver objects. This news comes three weeks ahead of the scheduled deadline for the fundraising campaign. Donations contributing towards this goal have come from a range of sources, including the Art Fund, Birmingham and Stoke city councils and a successful public appeal, one anonymous donor to which gave £50,000.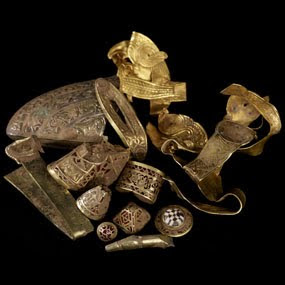 Despite this important and extremely welcome step, fundraising efforts are set to continue, aiming now for the estimated £1.7 million needed by the hoard's future custodians (Birmingham Museums and Art Gallery and Stoke Museums) to undertake proper conservation, study and display to the public. Purchase of the hoard for the nation thus hardly marks the end of the interest and activity which it has generated: its acquisition paves the way for detailed investigation and long-term exhibition to begin in earnest.
-
Staffordshire Hoard Update
ELB writes: The ASNC department's very own Prof. Simon Keynes was among the experts invited to view and discuss the Staffordshire Hoard as part of the fundraising campaign, led by the The Art Fund, to raise the money necessary to keep the...
-
More Pieces From The Staffordshire Hoard Discovered
The Staffordshire Hoard has now grown by a further 81 pieces, after a Coroner?s Court declared yesterday that the newly found objects were part of the Anglo-Saxon treasure. South Staffordshire Coroner Andrew Haigh ruled that 81 of the 91 pieces...
-
Campaign To Save The Staffordshire Hoard Begins
Historian David Starkey made a passionate plea for funds to keep the Staffordshire Hoard for the area where it was found. He was among several prominent public figures supporting the campaign, launched by The Art Fund charity, to raise the £3.3 million...
-
Staffordshire Hoard Is Worth £3.285 Million
A committee of independent advisors have valued the Staffordshire Hoard at £3.285 million. This figure will be split equally between the finder, Terry Herbert, and the landowner, Fred Johnson. The landowner, the finder and the two museums which hope...
-
Anglo-saxon Hoard: Gold From England's Dark Ages
Selected objects from the Staffordshire Hoard, entitled 'Anglo-Saxon Hoard: Gold from England's Dark Ages' will go on show at the National Geographic Museum in Washington DC (1145 17th Street NW), from October 29, 2011 - March 6, 2012. Further...
Medieval History