Medieval History
Aumbry door
Many of our churches still retain the evidence of aumbries, the secure lockers that served as the repository for valuables before the invention of the safe. They are a common feature let into the side walls beside both high and side altars and many were uncovered from behind plasterwork in the restorations of the nineteenth century. Many of them still have evidence of the door that once covered them, but very few of the original doors remain. However, at Begbroke, just north of Oxford, the chancel aumbry still retains its original door, here beautifully captured by Eric Hardy.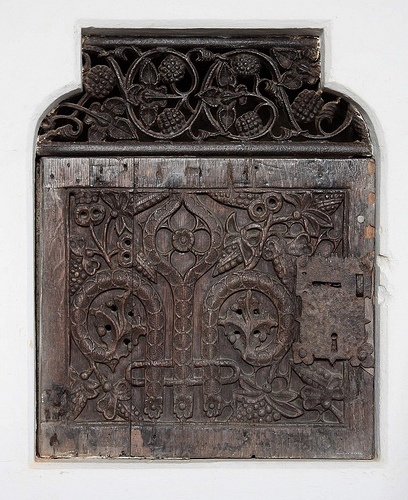 The door, which is very probably early sixteenth century, is decorated with carving. An elaborate and foliated fleur-de-lys is surrounded lucious foliage, pomegranates and berries. Above the door, to fit into the space created by the shouldered arch, is a fillet of pierced vine. It is a wonderful example of florid, if slightly stilted, late Gothic carving. Of course the door had to be secured and there is a lock plate on it, but it's a later addition that interrupts the carving. However, that is of no matter, for all told this aumbry door is a remarkable and attractive thing.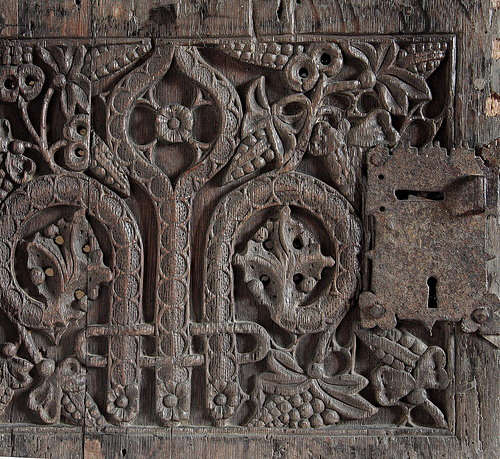 -
Fort Hood, Murder, And Islam
I don't have too much to say about this whole event, especially since nobody really knows anything about Maj. Hasan's motives at this time. They will, however, get to talk to him eventually. There's a lot of speculation, a lot...
-
Skelton Stiff Leaf
Shortly after writing my recent post on stiff-leaf and posting a photo of the stiff leaf on the doorway at Skelton St Giles near York, I came across the following article. http://www.dioceseofyork.org.uk/news-events/news/news-from-the-diocese-of-york/01384.html...
-
Transitional
Martin church near Horncastle in Lincolnshire, has a fabulous chancel arch. This narrow arch is a text book example of the Transitional style, the moment when Norman architecture gradually gave way to Early English Gothic. ...
-
Sanctuary Fittings And Something Rare
As well as the original pavement the chancel of Laxton church in Nottingham is lucky enough to still retain its stone sanctuary furnishings, fourteenth century piscina with double drains, Easter sepulchre, sedilia and image corbels. ...
-
Medieval Pavement
Medieval stone pavements in English chancels are something of a rarity. In fact medieval chancel floors are a rarity, for many were destroyed either by post-Reformation burials, or swept away in the nineteenth century. Under the...
Medieval History