Medieval History
Bodley and Garner in Lincolnshire
If you ever find yourself near Lincoln, take a detour ten miles south to the village of Brant Broughton, where the church of St Helen is a building that really shouldn't be missed. The church is an example of an exceptional and lavish restoration by Bodley and Garner. The restoration was initiated by Canon F. H Sutton, who was inducted to the living of Brant Broughton in 1873. He was inducted into the vicar's stall in a mean Georgian chancel attached to a run-down late medieval nave and aisles. Sutton set about a restoration almost immediately and by 1877 G F Bodley had transformed the building, replacing the Georgian chancel with a model Tractarian chancel in the Decorated style. It is this chancel that I want to focus on in this post.
Passing through the rood screen between the choir stalls, you move across a chequerboard floor of black and white marble into a lofty sanctuary. The chancel has all the liturgical furniture of a medieval chancel, including a triple sedilia and piscina. The focus of the chancel is the high altar set on a raised footpace with a typical lofty Bodley reredos behind it. The reredos painted in typical muted reds and greens and gilded, has as its centrepiece a fifteenth century German panel painting of the the Ascension, given by Canon Sutton.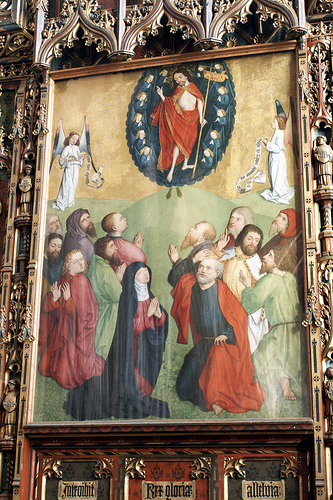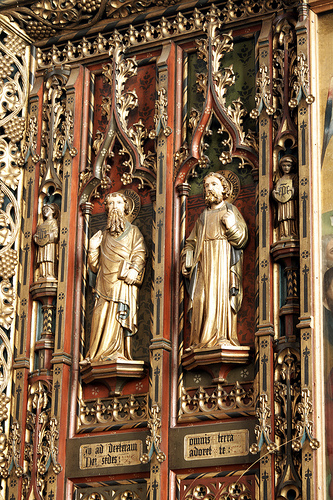 The painting is set under a triple canopy of ogee arches and is flanked by small shafting figures of angels and larger figures of the Evangelists.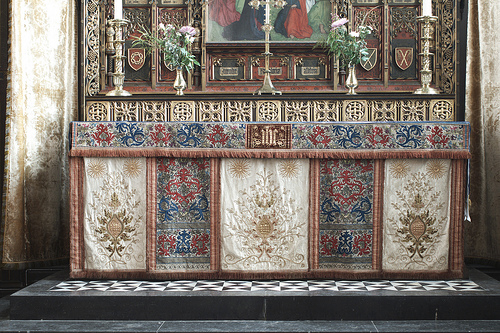 The altar is further enriched with glorious textiles. Two riddel curtains of stamped velvet hang at either end. The frontals were all provided by Bodley's firm Watts and Co and include a red frontal of stamped velvet and a blue frontal with alternating panels of velvet and Bodley's own 'Gothic' silk.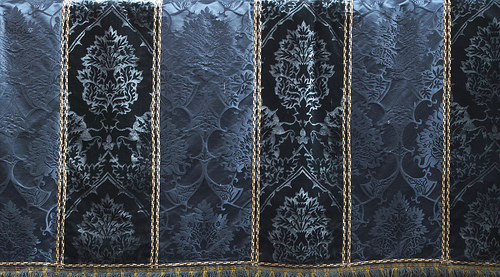 All told the chancel is a wonderful ensemble, but there is more to see in the rest of the church. That will have to wait for another post.
-
Bodley And Garner In Lincolnshire
Friday was my day off, so I had a trip out with my camera to Laughton, near Gainsborough in north-west of Lincolnshire. I had visited this church before in the summer of 2005, but my photos were not good, so a new set were needed. The church was breathtaking...
-
Blakeney, Norfolk
Blakeney, Norfolk, originally uploaded by Vitrearum.Blakeney church stands high above it's village, which was once a major port on the north Norfolk coast. The church is for the most part a fifteenth century building, with a broad clerestoried nave...
-
Te Deum Ceiling
The chancel of All Saints in South Elkington, Lincolnshire, had been constructed by the local architect James Fowler in 1874 in a rather plain and pedestrian 'middle pointed' style. In 1904 the rector of Elkington Canon Smyth retired and his...
-
North Cerney, Gloucestershire - Part 1
If I was a country parson living in, dare I say it, the good-old-days of the Church of England, when there was one priest per parish. The one parish I would love to serve would be North Cerney in the Cotswolds near Cirencester. In my mind the church in...
-
Advent Blue
This is a glorious little piece of late medieval English embroidery in the V and A. It formed part of an altar frontal, of unknown provenance, given by Henry Smyth and his wife and their son Thomas Smythe and his wife. It dates from the final quarter...
Medieval History