Medieval History
Capture of King Edmund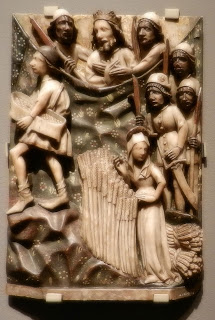 The Capture of Saint Edmund
, 1470-1500. This alabaster sculpture is part of the Victoria and Albert collection. Edmund was a Christian King of the East Angles in the ninth century. The scene is divided between the dramatic capture of Edmund by the wicked Danes, and the peasants collecting wheat in the fields. This was part of BYU's current exhibit featuring alabaster sculptures produced in England in the late fifteenth century. Quite a lovely piece!
-
Argatnél: Early Irish Mythology Meets Contemporary Classical Music
If any of our readers still need convincing of the sheer variety of strange and surprising places a degree in ASNC can take you in life, we direct your attention to the achievements of ASNC graduate Edmund Hunt. Edmund started here as an undergraduate...
-
Sandal Castle: Celebrations To Delve Into Battle?s Past
A battle that changed the course of English history will be remembered during celebrations at Sandal Castle at Wakefield on New Year?s Eve. Medieval weapons, clothes and crafts from the era of the Battle of Wakefield will be used by the Frei Compagnie...
-
Four Arts Spotlights Rare English Medieval Alabasters In First Showing In U.s.
To fully understand the pale, carved representations of Christian stories populating The Society of the Four Arts? galleries, you have to step back in time about 600 years. In those days, they adorned church altars or were the focal points of shrines...
-
So Excited
I can hardly sleep for how excited I am about tomorrow. It's not the student presentations on Jerusalem (although I'm sure those will be swell), and no, it's not the grading. Rather, I'm having lunch with two really nice colleagues, a...
-
Nottingham Alabaster Altarpieces
Drayton, Berkshire, originally uploaded by Vitrearum. In the late Middle Ages the fashionable material for altarpieces in England was alabaster, a type of gypsum, which could be found in limited quantity in parts of south Nottinghamshire, Derbyshire...
Medieval History