Medieval History
Sir John Bolle and his Spanish Lady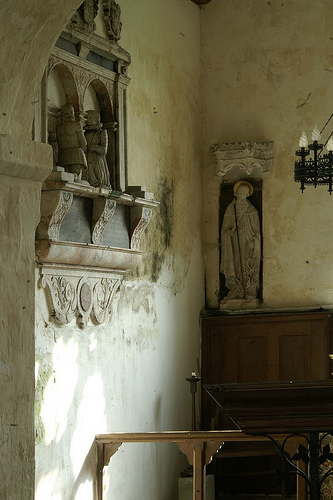 The Bolle Monument in Haugh Church, Lincolnshire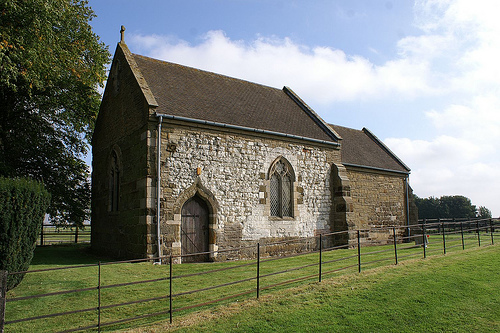 Haugh church, Lincolnshire
On the chancel wall in the tiny Norman church of Haugh in the Lincolnshire Wolds, is an alabaster monument. The monument is not that unusual, it has the typical Elizabethan and Jacobean arrangement of kneeling figures within an architectural surround. The man in armour is kneeling in front of his sons and is facing his wife, who kneels in front of her daughters. The monument commemorates Sir John Bolle, who lived in the manor house at Haugh and at Thorpe Hall in Louth. Sir John died in 1606 aged 44.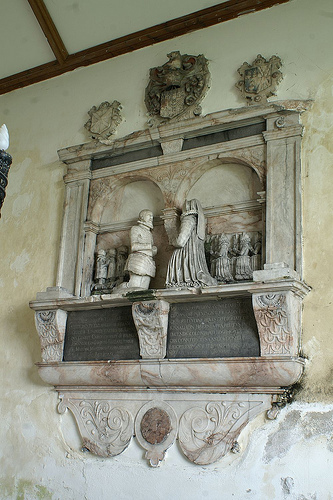 Sir John Bolle's monument
Sir John had a rather interesting life, which is worth saying more about. Sir John was from minor gentry family, but he spent most of his career, not on his estates, but as an army officer. He was an army commander in Ireland under the Earl of Essex and was for a time governor of Kinsale. In 1596 he went with Essex to raid the town of Cadiz in Spain. Tradition asserts that amongst the prisoners taken at Cadiz, was a lady of extraordinary beauty from a wealthy and well-connected family, identified often as Donna Leonora Oviedo. Sir John was given charge of her and he apparently treated her with such care that she fell in love with him. Apparently she was so passionate for him that she threw herself at his feet asking him to marry her. However Sir John was already married and refused, returning home to England. Apparently when he returned home the inconsolable lady retired to a nunnery, to spend the remainder of her days in sorrow and seclusion. On Sir John Bolle's departure from Cadiz, the Spanish Lady gave to him a number of presents, including a profusion of jewels and other valuables. Among them was her portrait wearing a green dress. The picture, which is long lost, was hung by Bolle in Thorpe Hall and led to her being called The Green Lady in the Bolle family. Tradition says that Thorpe Hall in Louth, is haunted by her, and that she used to be seen most nights sitting in a particular tree near the house.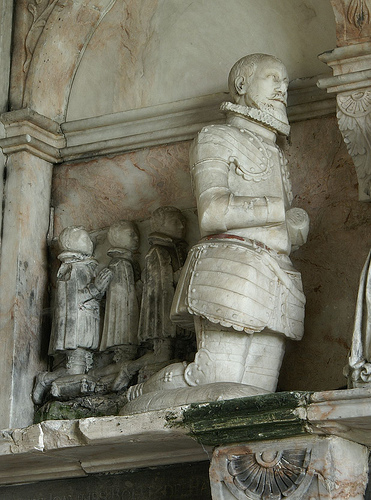 Sir John Bolle on his monument in Haugh church.
Sir John Bolle aged 36, a portrait in Louth Museum.
-
Memorial Altarpiece
The parish church of Youlgreave in the Derbyshire peak district, has a rather remarkable and interesting medieval alabaster panel. This rectangular panel is currently set into the wall above the altar at the east end of the north nave aisle, though it...
-
'and The Chauncels Shall Remain ...
Snarford, Lincolnshire, originally uploaded by Vitrearum (Allan Barton).as they have done in tymes past', so states the rubric before Morning Prayer in the 1559 Book of Common Prayer. At Snarford in Lincolnshire, Sir Thomas St Pol, seems to have...
-
Wool Merchants
I had a quick trip on Saturday to the church of St Cornelius at Linwood, near Market Rasen in Lincolnshire. The church contains two of the finest early fifteenth century monumental brasses in the county. Sadly they are little neglected and covered in...
-
Lost Roofs
I'm becoming quite familiar with these two rather lovely fifteenth century angels. They are attached to the wall in the Trinity chapel in Louth parish church, where my colleagues and I say the morning office. They, along with a single smaller version...
-
Lincolnshire Churches - Building Materials
Theddlethorpe All Saints, Lincolnshire, originally uploaded by Vitrearum.Lincolnshire churches, particularly those in the Wolds and some parts of the marsh have a wonderful texture due to the wide range of materials used. Take this wall at Theddlethorpe...
Medieval History