Medieval History
Spandrel paintings in Lincolnshire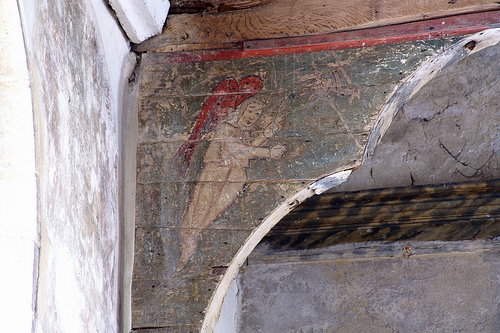 Friskney, Lincolnshire, originally uploaded by Vitrearum.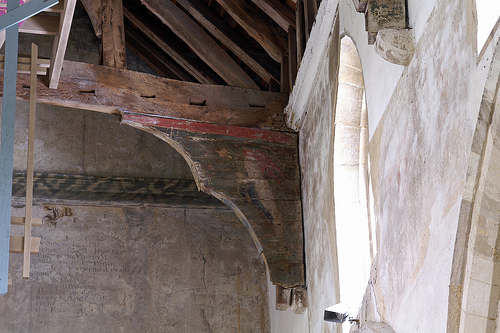 Lincolnshire is not known for its medieval panel paintings, but recently I came across these two naive censing angels at Friskney in the Lincolnshire marsh. They are painted on the eastern spandrels of the fifteenth century nave roof and my guess is that they acted as part of the rood composition above the chancel screen. They are virtually invisible from the ground, but with a six second exposure I got this result. In the bay to the west of this are the remains of an Annunciation, but it has fared rather badly in comparison.
-
Comper Glass From Burgh -le-marsh
Manby, Lincolnshire, originally uploaded by Vitrearum. Manby church is only a minute or two along the road for me and for some reason I have always put off paying the church a visit, I think I always imagined it would be locked. I had noted some time...
-
More Shadows Of Former Things
Theddlethorpe All Saints, Lincolnshire, originally uploaded by Vitrearum.All Saints, Theddlethorpe is in the remote coastal fringe of Lincolnshire. Many of the churches in this area are relatively unrestored and retain a lot of medieval fittings and...
-
Elevation Torches At Friskney In Lincolnshire
Look carefully at the photo above, in fact click through to Flickr and look at the image in its original size. Down at the bottom of the window, flanking the altar on either side you will see two crouching figures. Here is a detail of the one to the...
-
Lost Roofs
I'm becoming quite familiar with these two rather lovely fifteenth century angels. They are attached to the wall in the Trinity chapel in Louth parish church, where my colleagues and I say the morning office. They, along with a single smaller version...
-
All That Remains Of A Lost Medieval Church
Hannah, Lincolnshire, originally uploaded by Vitrearum.The medieval church at Hannah in the Lincolnshire marsh was demolished in the eighteenth century and replaced with a rather charming classial building. All that remains of the medieval building are...
Medieval History