Medieval History
Theft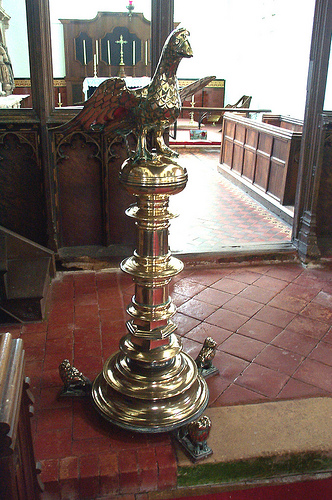 Croft, Lincolnshire
, originally uploaded by
Vitrearum
.
Yesterday I drove down to Croft near Skegness ostensibly to photograph the glorious fifteenth century brass eagle lectern that the church has. There are only two dozen of these in the country. My existing photos, as you will see, are pretty rubbish. When I got there the church, which is normally open, was locked. Sadly the church is locked at the moment because sometime over the summer some unscrupulous individual stole two of the lions that support the base of the lectern. They would have taken the third as well, except that it is soldered to the base.




So if any of you see a couple of small medieval brass lions for sale do let me know. It would be great if the church could recover them.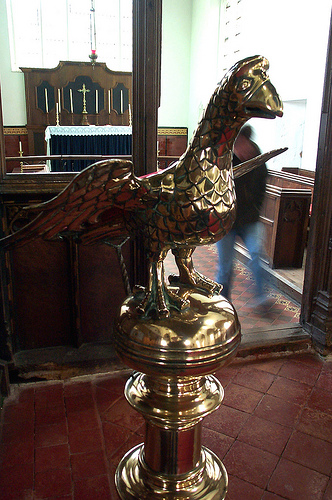 -
Gospel Lecterns
Lectern at Cropredy, Oxfordshire Quite a number of medieval lecterns survive in English parish churches. Many of the surviving examples are fifteenth or early sixteenth century and are made of brass (latten). They take the form (as shown in the examples...
-
Comper Glass From Burgh -le-marsh
Manby, Lincolnshire, originally uploaded by Vitrearum. Manby church is only a minute or two along the road for me and for some reason I have always put off paying the church a visit, I think I always imagined it would be locked. I had noted some time...
-
Wool Merchants
I had a quick trip on Saturday to the church of St Cornelius at Linwood, near Market Rasen in Lincolnshire. The church contains two of the finest early fifteenth century monumental brasses in the county. Sadly they are little neglected and covered in...
-
Pilfered Glass From Manchester And Elsewhere
Messingham, Lincolnshire, originally uploaded by Vitrearum.This lovely little figure is in the east window of Messingham church in Lincolnshire, where it sits among a whole host of fascinating fragments of medieval stained glass. When I first saw this...
-
'who Caused This Church To Be Built'
Bag Enderby, Lincolnshire, originally uploaded by Vitrearum.The atmospheric littlee church in the hamlet of Bag Enderby in the Lincolnshire wolds is a Perpendicular building built from beginning to end in one campaign. A simple brass inscription set...
Medieval History