Medieval History
Where I work - a Perpendicular masterpiece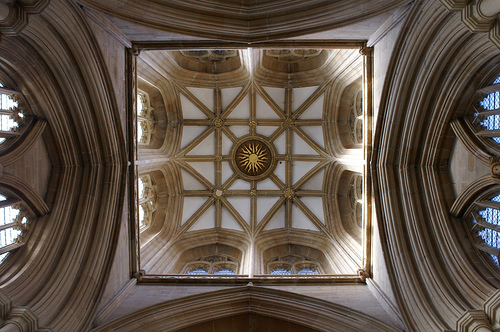 My title parish - Louth, Lincolnshire, originally uploaded by Vitrearum.
I have the pleasure of working as the assistant curate in Louth in Lincolnshire. Among the six churches we have in our parish is the parish church of St James, one of the most glorious parish churches in England. The church and the tower were all built as part of one campaign during the 1440s, 50s and 60s. The tower has a remarkable vaulted lantern, in the centre is a removable hatch decorated with a Yorkist heraldic emblem the sunburst. Evidence that this part of the campaign was completed during one of the reigns of Edward IV. Above the tower, which is tall enough, is a slender spire constructed between 1501 and 1515, which gives Louth the tallest parish church steeple in England at 295 fooot.
-
Medieval England To Be Featured In Two Bbc Shows
Television viewers in the United Kingdom will have the chance to watch two new history programmes that feature medieval England. The BBC will start airing a new six-part series, Churches: How to Read Them, on September 1st on BBC Four. Presented by author...
-
Here Is An Encaustic Antidote
Waithe, Lincolnshire, originally uploaded by Vitrearum (Allan Barton).to the 70s Lenten array I posted earlier. Henry Thorold described the chancel at Waithe in Lincolnshire with its tad excessive Minton tiling as all 'shining and polychromatic like...
-
Advent Blue
This is a glorious little piece of late medieval English embroidery in the V and A. It formed part of an altar frontal, of unknown provenance, given by Henry Smyth and his wife and their son Thomas Smythe and his wife. It dates from the final quarter...
-
'who Caused This Church To Be Built'
Bag Enderby, Lincolnshire, originally uploaded by Vitrearum.The atmospheric littlee church in the hamlet of Bag Enderby in the Lincolnshire wolds is a Perpendicular building built from beginning to end in one campaign. A simple brass inscription set...
-
Tower Transplant
Barnetby-le-Wold, Lincolnshire, originally uploaded by Vitrearum.The wonderfully texture church at Barnetby in Lincolnshire has this funny stubby little tower. Surely it's been truncated. Down the road Redbourne church in the same county has the...
Medieval History